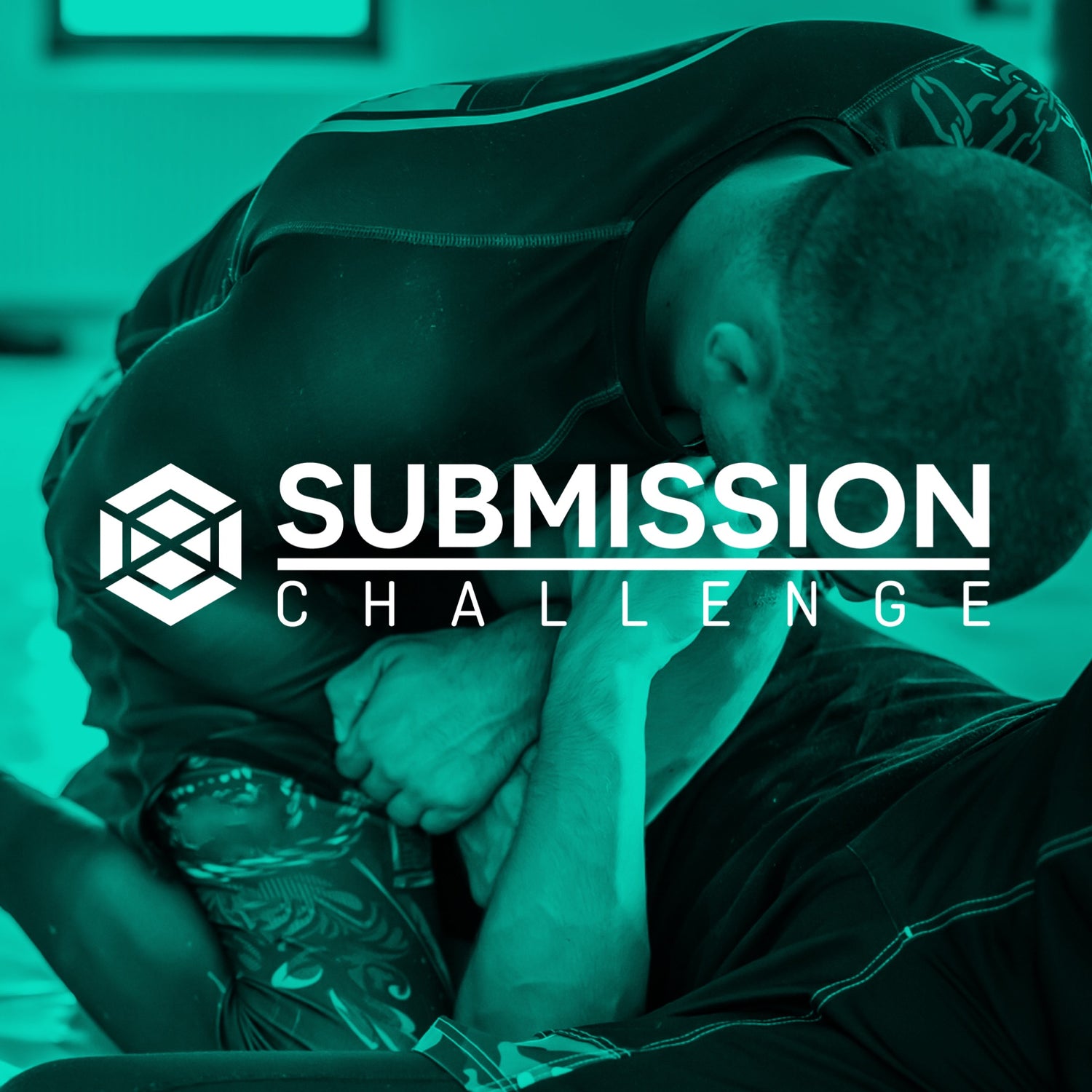 Submission Only Jiu-Jitsu
No Points, No Advantages. Sub Only Jiu-Jitsu TOURNAMENTS for everyone.
REGISTER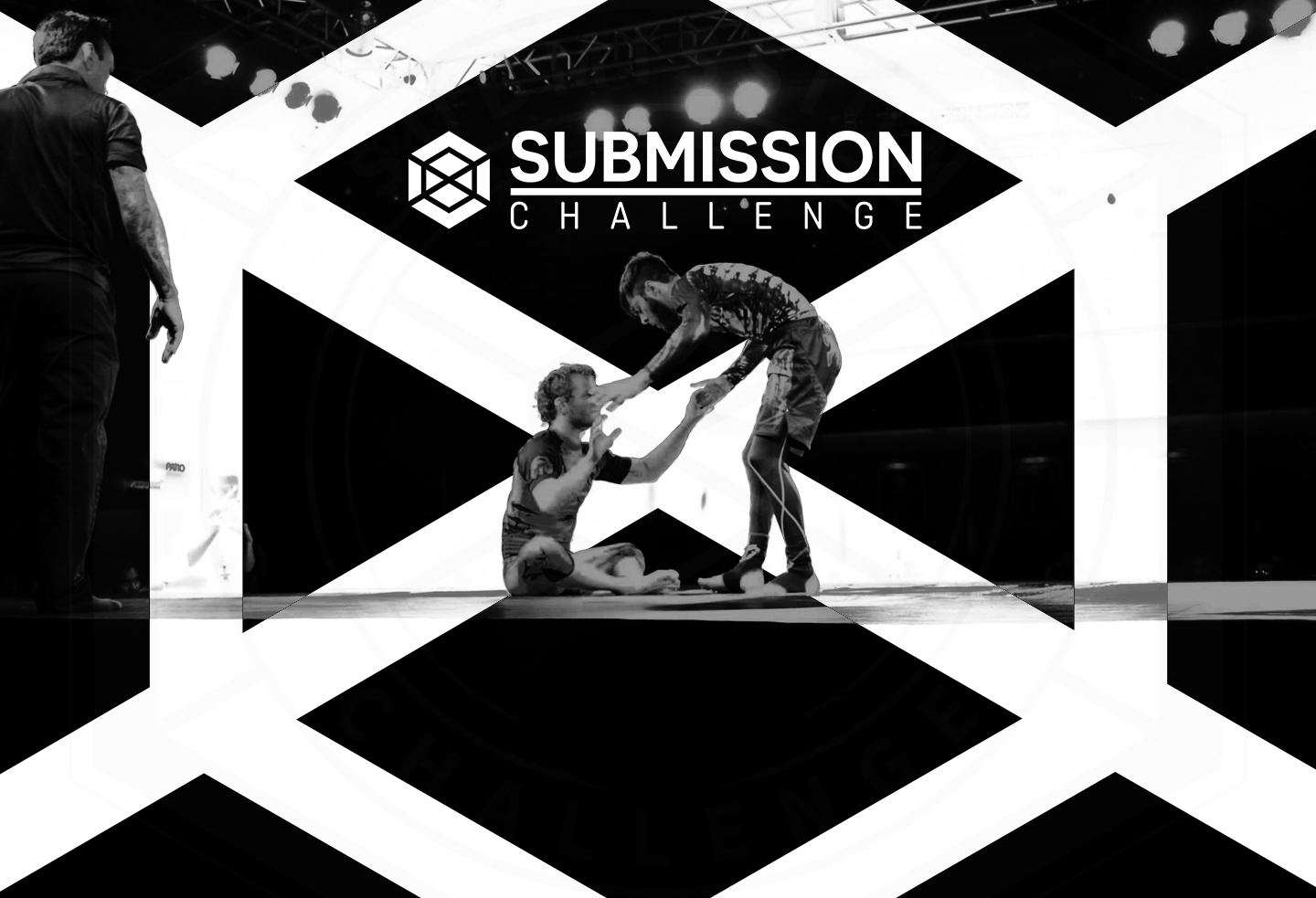 The Next Evolution
The Submission Challenge provides a fun filled positive competitive atmosphere for the entire family. Divisions starting at 4 years old going up to our Executives 2 division 55yrs plus. Weight classes start at 39lbs and under for the youngest of athletes. Beautiful Original Championship Medals Awarded to 1st, 2nd, and 3rd Place winners.
TOURNAMENT INFO
TOURNAMENT FORMAT

SUBMISSION ONLY - ISOF STANDARD RULES / EBI OVERTIME RULES - Double Elimination 

The Submission Challenge provides the nations best Submission Only Jiu-Jitsu experience for the entire family. Our event offers 100's of possible divisions with incredible awards and unforgettable matches. We utilize the ISOF Standard ruleset for Youth, Teens, and Adult competition. Rules are broken-down by skill level and age. In the event no submission is obtained competitors go into Overtime using EBI Overtime rules. 

To ensure our competitors have the best experience possible we've broken down the registration and bracketing schedule for you so you don't miss a thing. 

ONLINE REGISTRATION ONLY

OUR EVENT IS AN ONLINE REGISTRATION ONLY EVENT. THERE IS NO DAY OF REGISTRATION FOR ANY EVENTS.

We offer fantastic pricing for all of our competitors including a special discount for those who get on the ball and register early! We offer early bird discount pricing up until two week before the event registration deadline. Check your event page or event poster for specific registration deadlines and dates. Gi and No-Gi Competition plus Absolute divisions for Adults. 

BRACKETS, SCHEDULE* AND DIVISIONS:

Submission Challenge is proud to feature men and women's divisions for competitors ages 4 and up. All skill levels are welcome. Submission Challenge is submission grappling for everyone!

Novice divisions are available for first time competitors with less than 6 months of experience, this includes Judo, Wrestling, Sambo or any other grappling in any form.

Professionally designed and crafted medals are awarded for 1st, 2nd, and 3rd place. Championship belts for Advanced divisions.

COMPETITOR LISTS:

Competitor Lists will be viewable throughout the registration process. Please ensure your data is entered correctly by checking your registration on the registration tab above, or by clicking here.

CHANGING DIVISIONS:

On Wednesday prior to the event when registration closes, all competitors, coaches, and parents have until 3 P.M. Central time the following day to make any edits to their registrations. You can make these changes by logging into your account and modifying your registration details. At this deadline, registrations become finalized, and there will be no further changes allowed. Competitors who find themselves without another competitor in their division may choose to move themselves up in division (weight or rank) or cancel the registration for a full credit. If you have trouble changing your division or canceling, please check here for assistance.

BRACKET COMBINATIONS:

After the 3 P.M. deadline on Thursday to edit registration info, competitors who do not have anyone in their division group will be combined into another appropriate division. All athletes who remain alone in their divisions once brackets are finalized at 8 P.M. Thursday have no available combinations available to them, and therefore there are no matches available for that competitor. They will receive a full coupon credit for entry to any future Submission Challenge event.

REGISTRATION CANCELLATION POLICY:

In the event you must cancel your registration, a full event credit will be provided automatically via smooth comp. The cancellation deadline is by Thursday 3pm before event date. After the deadline to edit registration (3 P.M. Thursday prior to the event), all registrations are considered final with no event credit available. Credits are issued when you log into your account and cancel your event registration. Coupon codes are viewable in the "MY Account" area of SmoothComp. Competitors whose opponents no showed or withdraw from their division leaving them without a match on event day will receive a full coupon credit if there are no other appropriate divisions available.

BRACKETS AND SCHEDULE:

Friday Afternoon before the tournament, event brackets and a schedule will be released. You will be able to locate both on the event page brackets and schedule tab. All Submission Challenge tournaments feature 2 large flat screen T.V.s where the event schedule is displayed. The referee at your mat will also make a courtesy call for you to come to the mat if you haven't already presented yourself for the bracket. Please be at the mat on time for your matches. We ask that you make sure to be present in the venue at least 60 minutes prior your division start time as well, fast submissions allow us to get a head start on certain divisions. You can also tell when your matches are coming up by checking the tab on your mobile device during the competition: FIND MY START TIME

*Schedule is tentative and may change based on the amount of athletes registered

WEIGH-INS:

Weigh-ins begin at 8 A.M. the day of the tournament. Athletes may wear whatever appropriate attire they choose to weigh-in with. You ARE NOT required to weigh in with you Gi. If an athlete cannot make weight they will be moved up to the next available weight class, if there are no athletes in higher weight classes you will be disqualified. We do this to ensure the integrity of the brackets. Registration may be edited by the athlete until the Thursday prior to the event at 3 P.M. Central time.

RULES:

Submission Challenge runs a double elimination format with an additional bracket for 3rd place if necessary . We do this to ensure that our competitors are able to participate in as many matches as possible while still running a timely event. The Submission Challenge utilizes a slightly modified EBI Overtime ruleset. Full rules for the event including legal/illegal techniques, weight classes, and age groups can be found at rules.

UNIFORM REQUIREMENTS:

Gi - 

The Gis will not be checked or measured before the tournament, but tournament officials have the right to ask a competitor to change his/her Gi if they judge it is inappropriate. This situation can happen if: the Gi is obviously too short or too long, there are too many patches on the Gi preventing the opponent from gripping it, the top and the pants are of different colors or the Gi shows visible tears, is wet or dirty, or emanates unpleasant odors. Competitors may wear a rash guard under their gi. Competitors may not select to wear a shirt under their gi instead. 

NoGi

Men divisions, athletes have to wear board shorts without pockets or with pockets entirely stitched shut and reaching at least halfway down the thigh and at most to the knee. Attached metal or plastic of any kind that may hurt the opponent is expressly forbidden on the board shorts. Spats can be worn under the shorts if selected. Athletes also have to wear a rashguard or a shirt of elastic fabric (clings to body). This rash guard or shirt does not need to meet any color requirements. Athletes cannot compete shirtless or wearing a loose shirt of any kind.  For No Gi Women divisions, athletes have to wear board shorts or lycra elastic pants without pockets or with pockets entirely stitched shut and reaching at least halfway down the thigh and at most to the knee. Attached metal or plastic of any kind that may hurt the opponent is expressly forbidden on the board shorts. Athletes also have to wear a rashguard or a shirt of elastic fabric (clings to body). This rash guard or shirt does not need to meet any color requirements. Athletes cannot compete wearing a loose shirt of any kind.

MATCH LENGTH:

Adult Regulation time: Standard 8 Min Match
Teen Regulation time: 6 min matches at all skill levels
Youth ages 9-12 regulation time: 4 Min matches all skill levels
Youth ages 4-8 regulation time: 4 min matches at all skill levels.

WAYS A MATCH CAN BE WON:

Win via Submission victory within regulation time.
Win in Overtime: victory by submission, fastest submission time, or fastest escape time.
Win by opponent disqualification.
Win via opponent forfeiture.

Submission is based upon physical tapping, a verbal tap, or yelling during a submission attempt. If an opponent must have the match stopped for any injury related incident or any other reason beyond control that does not warrant any disqualifications, the opponent will have 5 mins to return to the match or they will have to forfeit the match.

INDIVIDUAL COMPETITOR CHAMPIONSHIP MEDALS

ALL REGULAR DIVISION AND OPEN WEIGHT DIVISION 1st, 2nd, and 3rd place finishers WIN PROFESSIONALLY DESIGNED CHAMPIONSHIP MEDALS FOR 1ST, 2ND, AND 3RD PLACE COMPETITORS. 

TOP ACADEMY AWARD -

1st, 2nd, 3rd Place for Best Academy.

WARM UP MATS:

Warm up mats are generally set up for athletes but may be used to run additional brackets if necessary.

SPECTATOR PASSES ARE AVAILABLE FOR $15 PER PERSON AT THE DOOR
TOURNAMENT RULES

ABOUT:

SUB ONLY isn't new. No Time Limit, Ref Decisions, Modified Rules, Draws. All have been explored, tested, and attempted in open invite tournaments.

With the Help of Eddie Bravo the Submission Challenge nearly 10 years ago,  began utilizing the EBI Overtime concept with modified Submissions for age and skill levels with incredible success.

over 100 events in cities all around the United States with Competitors as young as 4 years old to up to 74 have enjoyed our ruleset.

Submission Only is Exciting. FUN. and a Positive Experience for Everyone.

EBI Rules Changed the Game. It reinvented Sub Only and continues to prove the superior Submission Only Ruleset. Submission Challenge is proud to be a pioneer and continual trailblazer of the rule set for Open Invite competition.

Ways a Match can be Won:

Win via Submission victory within regulation time.
Win in Overtime: victory by submission, fastest submission time, or fastest escape time.
Win by opponent disqualification.
Win via opponent forfeiture.

Submission is based upon physical tapping, a verbal tap, or yelling during a submission attempt. If an opponent must have the match stopped for any injury related incident or any other reason beyond control that does not warrant any disqualifications, the opponent will have 5 mins to return to the match or they will have to forfeit the match.

Match Time Limits

Adult Regulation time: Standard 8 Min Match
Teen Regulation time: 6 min matches at all skill levels
Youth regulation time: 4 min matches at all skill levels.
Youth Novice Rules: 2 Min rounds learn more here.

Overtime time limits: there is a 2 min time limit in overtime rounds. See Overtime rules below for more details.

OVERTIME RULES:

Eddie Bravo Invitational overtime rules. Any match whose regulation match time ends without a draw immediately moves into Overtime with break or time out unless deemed needed by referee. Any competitor who can not answer the call to immediately participate in the overtime round will be disqualified.

overtime round consists of Athletes choosing specific Dead-zones (The back or Spiderweb) from which the athletes will attack and defend submissions. Each competitor will get a try to attack for a submission. The competitor who can secure a submission their respective attacking overtime round will be the victor.

Based on athlete aggression and submission minded attacks the referee will choose a competitor to choose Offense or Defense at the beginning of the the 1st OT Round.

In Overtime there are two positions or Dead Zones available to attack and defend from.

Back Control with Seatbelt Grip 

Competitors will begin in a seated back control position upright with both hooks and a seat belt grip. The opponent may have their hands in place on the seat belt grip and chin tucked before ref begins the round. Once round begins the body triangle may be applied but not before.

Spiderweb or the Arm Bar position. 

Each position must have arms hooked, crook of elbow to crook of elbow. The opponent defending the position may have their arms in any defense configuration they desire. Below are samples of each position. 

Submission Shootout

During the overtime rounds opponents are trying to submit or escape as fast as possible. Both opponents will have a chance to submit their opponent from a dead zone of their choosing or escape the deadzone their opponent chooses. The opponent who obtains a submission or the fastest submission in the Overtime round wins the match. In the regulation matches on a bracket fighters will have 1 single OT round to achieve a submission. In the finals (for 1st and 2nd Place) Fighters will have up to 3 overtime rounds to achieve a submission. In the event that escapes occur for both fighters, the combined fastest escape time will be the victor.

In OT the Goal is Submit your Opponent as fast as possible or Escape the Dead zone position as fast as possible.

OVERTIME For KIDS 8 and UNDER

Kids under 8 may only select BACK CONTROL in overtime rounds. 

 

Legal and Illegal Submissions

 Slam Rule: No Slamming is allowed, However it is respected.  If your are lifted into the air and held in control for a standing count of 3 by the ref, the match will be stopped and reset to a neutral standing position. Example: being lifted up in a triangle choke and held upright. After 3 Seconds, the match would be stopped and reset to the center of the ring standing. 

Neck Cranks: All neck cranks are illegal. Example: Can Openers. 

No Standing Submissions for Kids under 13. 

Twisters are Legal at Blue Belt and Up

YOUTH NOVICE DIVISION RULES - 4 - 12 YEARS OLD

To help novice competitors with less than 6 months of training have a tremendous competitive experience we'e created a No Submissions Ruleset just for novice youth competitors.

The Positional Shootout! 

First competitor to Mount or Back Control Wins the round

Best out of 3 rounds - Each round is 2 Mins. 

Must Control position for 5 seconds. 

If no winner after 3 rounds - We go to OVERTIME!

Back Control Only - Fastest Escape is the winner

Only 1 Overtime round in Novice Division. 

NOTE TO PARENTS 

Our Referees call submissions and end the match anytime the competitors look in danger or injury. The referee's job is to ensure the safety of all competitors on the mat and in Youth matches will stop matches prematurely if a Strong Submission attempt is in play, and the opponent is not defending adequately and risking injury. Please understand safety is priority. 

 

Weight Classes

 

| | | |
| --- | --- | --- |
| Adults (Men and Women) | Teens | Youth |
| | | |

115lbs and under
116-125lbs
126-135lbs
136-145lbs
146-155lbs
156-170lbs
171-185lbs
186-195lbs
196-205lbs
206-235lbs 
236lbs+

115lbs and under
116-125lbs
126-135lbs
136-145lbs
146-155lbs
156-170lbs
171-185lbs
186-195lbs
196-205lbs
206-265lbs 
265.1 lbs+

39lbs and under
40-49lbs
50-59lbs
60-69lbs
70-79lbs
80-89lbs
90-99lbs
100-115lbs
115lbs+

Age Ranges

Youth Ages 4-6yrs
Youth Ages 7-8yrs
Youth Ages 9-10yrs
Youth Ages 11-12yrs

Teens 13-15yrs
Teens 16-17yrs

Adults 18yrs +
Masters 1: 30-34yrs
Masters 2: 35-39yrs
Directors 1: 40-44yrs
Directors 2: 45-49yrs
Executive 1: 50-54yrs
Executive 2: 55yrs +

 SKILL LEVELS 

Regular Adult 18yrs+ No-Gi and Gi Divisions:

Novice (Under 6 Months Training) 

White Belt (No Wrestling Experience) 

Blue Belt 

Purple Belt

Brown 

Black Belt 

Regular Youth/Teen No-Gi and Gi Divisions:

Novice (Under 6 Months Training) 

White Belt (No Wrestling Experience) 

Gray Belt

Yellow Belt

Orange Belt (Championship BeltsUnder 13yrs)

Green/Blue Belt 

ADULT ABSOLUTE NO-GI AND GI DIVISIONS

(SAME SKILL LEVEL ALL WEIGHT CLASSES)

Novice (Under 6 Months Training, No Prior Wrestling) 

White Belts 

Blue Belts

Purple Belts

Brown Belts

Black Belts